In Part 1 I said I would talk about our game Undefined Behavior more specifically. Maybe that wording was a little too liberal. By the end of the game jam, we didn't really have a game per se. With that said, what we did end up with had a distinct feel to it.
The game was supposed to be a sort of first-person puzzle game where you're a programmer in a highly augmented reality world who accidentally introduced a viral bug which starts to glitch that world more and more. You have to explore the environment and using your "debugging tools" to study specific glitches and figure out what's wrong. Over time you realize what the symptoms are, which leads to an "ah-ha" moment where you realize what you did followed by a climax last-minute bug fixing. I'd love to come back to the idea at some point, especially since we didn't get very far with the glitches. Evan did have an idea to use the raw memory data from the program itself to glitch things out, which I thought was great.
As I mentioned earlier, Plaidgadget is a 2D vector-based engine. Despite that, we decided we were going to try out a pseudo-3D, old school FPS style like Doom or Wolfenstein. He was able to take his figure animation system to load in an object drawn from multiple angles, so we could have the object rotate as you walked around it, along with an edit mode for placing objects in a level. For the 3D look, he places figures on the screen and scales them manually, which in some ways is more interesting to me than a fully 3D space.
2D vs. 3D
Quick side note: I'm not sure what it is about polygonal 3D (although I certainly have theories!), but many times polygonal 3D graphics just doesn't seem to have as much character as 2D graphics (it appears I'm not alone in my opinion). An irritation has been rattling around inside my head for the last couple years…concept art looks better than the final end product of a videogame. Concept art is usually just so much more inspiring and full of wonder, and that bothers me. One of my goals in life is to be successful enough that I can lead a "videogame art direction think tank" that has the sole job of learning how to translate the awesomeness of concept art into videogames. I already have a big long list of things for this hypothetical team to do. Maybe someday…
Pushing Against Self-Imposed Boundaries
So anyway, I think a big part of the distinct feel we had comes from trying to hack pseudo-3D into a 2D engine. Despite the fact that I've read about this before, actually doing it made me realize first-hand that you can come up with some interesting things when you intentionally give yourself stricter boundaries and then push against them. By taking Plaidgadget, an engine intentionally limited in scope, and trying to see what creative things we can do within those limitations, we ended up with something interesting.
It was a rewarding enough experience that I'll be thinking about how I can do it again in the future.
Our local game developer club, Iowa Game-Dev Friendship, held what I think was our 8th game jam in Ames this weekend. As expected, it was an awesome time. This time my team had a big setback, and because of it I came to a profound realization about game engine authorship and its importance for a meaningful creative experience.  Developers and designers talk about the importance of videogame authorship, but this weekend I realized in a new way how that can translate into game development tools as well.
Background
Before I explain in more detail, you should know I'm increasingly becoming a "get things done" kind of guy, which is manifested by my avid support of the Unity game development tool due to its ability to get something up and running quickly.  Naturally I want to use it for every game jam, and this one was no different.
While brainstorming ideas over pizza, my friend Evan Balster of Plaid Notion (Infinite Blank, Sense of Wonder Night finalist and Kickstarter fundee) and I came up with an interesting game idea based on a mutual affection for glitch art and decided to team up for the game jam. I convinced him to use Unity, but due to some apparent bug in Windows 64 bit, it simply would not install on his machine after at least an hour of effort. In the end, we decided to use his own engine Plaidgadget, and I had to face one of my biggest game jam fears: spending the first 8+ hours setting up the dev environment. I thought we were doomed, but I guess God had other plans…
Evan as game engine
If you've ever met Evan, it won't take you long to realize that he's a character. He's very eccentric, which would likely turn off some, but he seemed to me to have a certain innocence and lovable genuine-ness. This feeling was recently confirmed when he offered to help me in a way that only a true friend would.
It didn't take me long to realize how much of his own character was present in Plaidgadget. If anyone could ever call a game engine "charming in its quirkiness," I think you would say that about this.
Plaidgadget is a strictly 2D vector-based game engine – designed with a specific goal to not be a generic do-everything engine. It even has some of its own art tools, including a "figure editor" where you can draw vector shapes and even skin them to bones with simple IK. The workflow is pretty unique, designed with the help of Plaid Notion partner Beau Blyth (Action Fist, Fish Face, Uberleben) and includes a transform tool based on concentric circular areas for pivot, move, rotate/scale, and rotate. It even lets you animate with forward and backward keys and primitive previous-frame onion skinning through showing the outlines, but has no real visual interface for keyframes.
At first glance, the figure editor seems ghetto and very limited, but eventually I came to realize that those limitations really helped me to focus. It actually changed the way I thought about creating, which is what all of my favorite tools do. By using this tool, I understood more and more how providing a large number of options to perform some task can sometimes slow you down by making you value specific techniques more highly than you should, causing you to spend too much time trying to determine the best course of action. I thought it was funny how much I valued Unity's "get things done" ability yet missed how it can also sometimes work against that by offering so many choices and by trying to do everything. I was beginning to form a dogma.
Because Evan had a vision for a specific engine that could do one thing well and really put himself (and Beau) into it, Plaidgadget is essentially following the same mentality as many indie games. As a result, it's both interesting and inspiring to use. Here was this tool that, despite some flaws, still allowed me to focus precisely because it was limited.
Game development philosophy repentance
This realization was liberating in a sense because it freed me from a sort of judgmental mindset about game dev tools. It lifted what was becoming an evil burden off my shoulders. And by the grace of God, that led to a sort of creative breakthrough toward the end of the weekend. This freedom inspired me to design a character and animate a simple walk cycle "traditionally," i.e. with no skeleton, in about the course of an hour. It was a pretty big accomplishment for me considering I did no planning or sketching at all beforehand and since I don't consider myself very good at drawing. I essentially sketched a character animation the way one sketches a thumbnail, and it gave me a whole new level of confidence.
I often read about people who say "I can't believe what I was able to accomplish," but don't really experience it myself very much. This was one of those experiences, and I'm not sure if it would have happened had things gone the way I wanted them to. I still love Unity, but I feel like a changed man with an appreciation for what I now consider "indie tools" that have a singular vision and try to take one interesting idea and run with it the way indie games do.
In Part 2, I talk about our game more specifically and how it was impacted by different tools.
The Importance of Game Engine Authorship, Part 2
As an Impromptu Studio member, I was invited to the new BitMethod office space once it was secured. I decided to follow along, especially since there's some space to expand here and since the price was very reasonable. I was an Impromptu member since day one, and I've come to like working along side Zach and the BitMethod crew.  My new address is:
God at play
418 6th Ave
Suite 1210
Des Moines, IA  50309
There's an open house November 16th from 4pm-7pm. If you're interested, come check it out, the space has a cool set up. Here's the sign you see when you come in, how internet-y.
More pics; moving in, some views from the offices.
My good friend Justin Wise asked me to help him out on the visual side with his BeDeviant Social Media Summit.  I figured I'd take the opportunity to create something interactive using the Weiv platform that expressed something fundamental about social media.  The end result is an interactive Twitter friendship visualizer.
The concept behind it is that it watches tweets filtered by a hashtag (I set it up to watch the summit's #BDSMS hashtag). Every new user that tweets with that hashtag pops into the scene with a physical force, and then the visualizer looks up that person's friends list. Like most things in infographics, the end result is larger than the sum of its parts. You understand how interconnected people are in a visual way. And (nerd alert) I use a hack for real-time ambient occlusion to shade overlapping squares. B-) The camera auto-zooms on the whole group, and you can switch to view each user individually – controlled in the crowd or on the stage with a Wii Remote, if desired.
As of right now, that's all it can do. Future features include visualizing new tweets from the same user, and maybe displaying tweets themselves (which every other tweet-stream app does). I could also somehow visualize how active or popular a twitter user is. There are a lot of opportunities to show cool things, really.
I think this is a cool application of the Weiv platform that could be used for events like Justin's summit, a conference, a church service, or even during the lead-up for a concert. Any time when you have a hashtag and want to visualize connections in a community, and encourage people to actively promote the event through social media. In the future I dream of creating a world through this visualization and exploring it with a character. Ahh dreams…
So I've been continuing to work on my project, which I previously referred to as interactive visual worship & singing.  With the help of some other friends, we've begun to refine it and understand its implications as part of a large-scale societal shift.  This has led to a software platform we're calling Weiv.
What is Weiv?
Weiv is an interactive media platform for enhancing live performances. It allows a group of people to act as a "visual band" that can play to live music. With Weiv, people move Wii Remotes to the beat of the music, creating animations or exploring a virtual scene on a projection screen.  As I've mentioned before, this allows people to express themselves visually the same way they do musically when singing.
Here are a few of the features:
Engage through live interactivity
Because people are involved in creating the visuals live, the entire audience is engaged. The performers create, while the rest of the audience experiences the same benefit of live visuals as they do for live music.
Group interaction
Use up to 7 Wii Remotes to allow an entire group of people to collaborate, just like a visual band.
Videogame technology & media
Weiv uses technology found in modern videogames to support advanced graphics and interaction. This medium especially connects with youth because videogames are their heart language.
More info
Looking for more information or still confused?  Head over to the Weiv pre-order page to get an idea of what the platform consists of, read about more features, and of course pre-order if you're interested in speaking the heart language of a new generation, and/or if you're interested in supporting independent videogame development.  I'm applying for a grant through the Iowa Department of Economic Development, and the biggest chance at getting the grant would be to get pre-orders.  Help me make this dream a reality!
TIGJam Midwest is next weekend, June 4th-6th, 2010, at Foundry Coworking. If you're interested, RSVP here at Eventbrite: http://tigjammidwest.eventbrite.com
Here's the official info:
TIGJam Midwest is an indie game jam where creatives – programmers, hackers, designers, artists, or musicians – get together and make videogames in a weekend. For those who aren't familiar with game jams, they're similar to events like the 48 Hour Film Project or Startup Weekend. It's called TIGJam because our group is part of the TIGSource community, which is a developer community for indie games.
Our game jams usually have a theme, and TIGJam Midwest's theme this year is "proverbs," proposed by Mark Doeden of 8monkey Labs.  Participants will form teams, choose a specific proverb from a culture of their choice, and develop a game based on it. There could be games based on Chinese Buddhist, Muslim, Hindu, Christian proverbs, or more obscure cultures or religions.
The local community is encouraged to attend the show & tell at Impromptu Studio at 3pm-8pm on Sunday, where they will experience the games and meet local game developers. These won't be your usual space marine shooters; expect raw and barely-finished games that explore satirical, brand new, or meaningful territory.
A couple other exciting things are in the works.  Alec Holowka of Aquaria fame will be giving a keynote Friday at 7pm.  Venom is providing free energy drinks, there could be a visit from Senator Jack Hatch to express his support of creative endeavors like this, and there are rumors of drink specials next door at the Des Moines Social Club.  Finally, barring some catastrophy, there should be free catered food the whole weekend.  Expect one or two other exciting things to get finalized closer to the event.
All this free stuff is thanks to the generous sponsorship of the Iowa Department of Economic Development and the Technology Association of Iowa.  It's exciting to think that these organizations are supporting a culture of game development here in Iowa!
In case you're wondering where this is going, my answer is going to be the "unnamed medium" that I've referred to in the previous post. Just so I have my cards on the table, as a friend would say.
This post is part of a series: "unfinished posts I wrote a year ago that are collecting dust on my hard drive." Most of them are about videogames and/or storytelling from an artistic perspective. I've been waiting for certain points where I'd be inspired enough to dig them up, and a recent article by Ian Bogost about Heavy Rain and how it relates to cinema inspired me to dig this one up. You should check out his article. Also, I realized something new while writing this, so I'm happy to have made some progress.
In my dusty post, I was writing about storytelling, and I tried to think of artistic mediums. I realized that in the context of making art or telling a story, it would be very helpful to define them by what made them distinct. I'm probably not doing any of this incomplete list the justice it deserves, but hopefully this will make the point.
Oral tradition – dynamic, three-dimensional, using language spoken orally
Music – dynamic, three-dimensional, using the sound generated from the structured series of contacts of objects
Live-action role-playing – dynamic, three-dimensional, using live actors playing roles in a defined space
Token-based role-playing – dynamic, three-dimensional, using tokens playing roles in a defined space
Light painting – static, two-dimensional, using a single image represented by the placement of light on a surface

Painting – static, two-dimensional, using a single image represented by the placement of colored pigments on a surface
Literature – static, two-dimensional, using written or printed language arranged on sheets of a semi-permanent surface
Photography – static, two-dimensional, using a single image of a real-life scene captured by a camera obscura and transferred to light-sensitive paper
Film – dynamic, two-dimensional, using a sequence of images and audio of a real-life scene captured by a camera obscura, cut into a linear series of arranged segments, and presented on a screen
Animation – dynamic, two-dimensional, using a sequence of images represented by the placement of colored pigments on surfaces, cut into a linear series of arranged segments, and presented on a screen
Software art?? – dynamic, two-dimensional, using a sequence of images and audio stored on a computer, programmed into an interactive system, presented on a screen
As you can see, artistic mediums are technological in nature in the sense that the technology being used (or not used) makes one medium distinct from another. For each of these, you will want to artistically use one of those properties in order to create an artistic experience through that medium. With literature, you'll want to use language, arrange the language, or use the surface in some artistic way. With film, you'll want the scene, the capturing of the scene, the arrangement of the segments, or the presenting of the images on a screen to be artistic.
None of these mediums have any mention of storytelling or games because both of these things are completely abstract structures for meaning. They don't rely on technology at all; they're basically systems created by thought. Therefore, in order to be expressed in a way that can be artistic, a story or a game must be presented through a medium. Storytelling presented through live-action role-playing gives you theatre. Storytelling presented through light painting gives you shadow puppeteering. Games presented through token-based role-playing gives you board games. Storytelling presented through painting gives you graphic novels.
That means videogames are games that are presented through the last medium. And what makes them distinct is that medium. It's based on an interactive system that is virtual (computer-based) and fictional (artistic, not functional). EA probably put it most concisely in the manifesto promoting their indie game collective, calling it "software art."
To bring it back around to Ian's article, he was suggesting that in the same way film has editing at its core, videogames might have extension or prolonging at its core, which is basically the opposite of film. And after looking at what makes videogames unique, I can see how that could be true in part. Because videogames have at their core a computer, and computers are good at simulating, so they could be more about continuity than the breaking up of continuity.
However, I think a better way to put it might be that the use of editing is at the core of film, as opposed to the use of fast editing. In the same way, the use of simulations would be at the core of videogames, as opposed to the use of continuous simulations.
That means good artists in film would use editing (among other things) to provide meaning, whether it was fast or slow.  In videogames, good artists would use simulation (among other things) to provide meaning.  In the case of Heavy Rain, that simulation was used for everyday actions, which gave the experience a distinct feel.
I've been slowly working on a side-project for a while – on and off (mostly off) for the past 10 months or so. It's evolved some since I've started, so I thought I would share it with you, dear reader. The most concise and least awkward way to describe it is that it is a platform for interactive visual worship (or "visual singing" for non-worship settings).
What is Interactive Visual Worship?
Interactive visual worship is a form of worship where people can use videogame technology to worship visually along with a band that's playing music. It can be hard to understand at first if you're not very familiar with forms of both Christian worship media and videogame media. I don't blame you, so I'll try to elaborate on both!
Christian Worship Media
During a modern Christian church worship service, on the surface level you will see a band playing music on a stage in front of the congregation, and the congregation sings along to the music. These days people know what to sing by looking at white words on black projected onto screens above or to the side of the band. Some churches have also begun using abstract animated backgrounds behind the words (or on different screens altogether), referred to as "motion backs." Other churches even try to include less abstract animations, such as video clips of nature or people interacting in a meaningful way. In terms of the media that's going on, it's similar to live visuals at a rock concert.
So the goal is to express some faith-based message through film/animation during the musical part of worship – this is visual worship, or rather a specific form of visual worship. Since it is about expression, artists are needed to express that message. They choose the clips and fade between them live to the music in order to create meaning, similar to how a DJ works with turntables. Therefore, these people are referred to as worship VJs. So you could say that these worship VJs are worshipping visually by creating meaning from video clips in sync with a worship band playing music. Again, like VJs would at a rock concert/club. And there's almost always only one worship VJ doing visuals, just like you usually have one DJ playing in a band or at a club.
Videogame Media
Interactive visual worship takes that idea, combines it with videogame technology and media, and allows a group of people to worship visually at the same time. Now when I use the word videogames, you might think of Tetris or Doom or Halo or Peggle, but that's not quite what I'm talking about. I think of videogames as a mixture of two unique mediums – a specific medium that doesn't really have a name yet, and games. At the heart of this unnamed medium is a virtual, fictional, interactive system running on a computer.
This system takes input, computes it, and displays an output that changes based on the input given. It's fictional in the sense that the system represents something artistic; it's not tax software, but a virtual world created by an artist that you can explore and learn from. It's a world that speaks to you on a very human level, but because it's interactive, some videogame designers describe it as a world that you can have a conversation with.
Interactive visual worship uses this unnamed medium. Keep in mind that it's a unique medium that's distinct from games, so it does not include winning & losing, game-like challenges, or points. But it still uses interactive systems or environments. These could be made up of a series of scribbles that move around, geometric shapes that appear to be alive, or an earthly world that looks like a painting or photograph.
What is it Like in Practice?
In the real world, where culture exists, this takes the form of using wireless devices like a Wii remote to interact with videogame-like environments during a church service. And the visuals appear on a screen for the congregation to see, just like existing visual worship media.
I can hear it now…"What?!  Playing videogames during church?!" Well, kind of. Though it's not that different than mixing beats during church or painting during church. It's a medium, just like other things that are experienced on Sunday morning. For interactive visual worship, it's designed to be a communal activity for at least 6 people, like adding a visual band to the music one.
I'm working on a demo video that I'll post soon; hopefully it will be provide some clearer idea of what this is all about. Basically at this point I have a few environments that I can switch between. It's a polished prototype. More info to come.
The comment thread of a recent Kotaku article entitled Walmart Said to Broaden Christian Game Distribution Plans perfectly presents the uphill battle that any Christian game developer has in presenting any sort of Christian message in a videogame.
I found this comment to be particularly poignant:
For a society that seems to love tolerance, we sure seem to hate Christians a lot.
The Left Behind games obviously aren't helping things.  I've never played one, but based on my research, they seem to be poorly crafted and a little mixed-up theologically.  This, of course, is based on the theology of the Left Behind books themselves, the first of which is dissected in incredible – though often over-the-top – detail at the Slacktivist blog.
If I were to unfairly distill Fred Clark's analyses of the books down to a statement, it would be that the Left Behind series represents an anti-Anti-Christ perspective of the world which is not always pro-Christ.
I was having a recent conversation at my bible study lately involving the fire-and-brimstone preaching that you would hear on the street corner (or at the Des Moines Farmer's Market).  To be clear, we didn't agree with that behavior and concluded that neither would Deitrick Bonhoeffer, author of Life Together, which we're currently studying.  I often wonder if this is what the Jewish authorities of Jesus's day were like.  You know, the ones he had the most trouble with.  The ones that conspired to have him executed.  Not that what's being preached on the corner is never true.  I think it can be, but so can swinging at a stranger's head with a baseball bat in order to smash a fly that had landed there be technically "true."
Nevertheless, I'm encouraged to see Walmart's willingness to be open to more Christian games.
I still long for the day when I can play a game that is actually meaningful and says something about my faith.  Something real that actually represents the message of Jesus; "the last will be first," "whatever you do to the least of these," "love you neighbor as yourself," and so on.  I guess that makes me just another game developer that is trying to make the kind of games I want to play.
I'm not much for writing something as formal and (over?)confident as a manifesto yet, but that doesn't mean I don't believe in them. Tale of Tales just released their second, a manifesto for notgames entitled Over Games, which was delivered at the Art History of Games conference at SCAD.
For the past year, I've been working on my own interactive projects that don't involve game mechanics, so it was very relieving to find out there are others out there wanting to do things that are like games, but not quite games. And when ToT invited developers to join them, I saw an opportunity to be part of a like-minded community.
If the essence of what I loved about The Dig wasn't the puzzles, why have them? Why not have only the essence of what I loved?
I'm not 100% convinced that videogames proper are holding back the full potential for expression, but I have the same gut feeling as Tale of Tales that in many cases they are.
I suppose this comes from evidence that some of my favorite "games" lately have been things that actually have very minimal game elements to them. It took some dissection of Small Worlds, Today I Die, The Majesty of Colors, and others on the notgames forum in order to come to an official conclusion on that. But if I follow the trend forward, it could be possible that by having no elements at all, the experience would be even more expressive as a creator and enjoyable as a player.
An even larger amount of evidence comes when I stop to consider the unique elements of art forms (or media if you prefer), and how videogames don't really offer anything truly unique.  This point is part of a very long-winded essay I have yet to publish, but the short story is that the "games" part of videogames isn't unique to videogames, and the "video" part of videogames isn't unique to videogames.
The "video" part I'm referring to – what I like to call a virtual, fictional interactive system – is what I love most about videogames. Basically it would be fictional media that fully utilizes the computer, including its input, computation, and output. Games would be a fine addition, but from my experience playing and creating them, they often create various forms of dissonance, especially when it comes to the more artistic/story-driven ones. A game system integrated with an artistic interactive experience usually feels duct-taped on top to me.
For example, the fact that I never finished The Dig because the puzzles were hard and I got tired of them really frustrates me. The puzzles are not why I loved The Dig, although they were interesting in their own right for a little while.  To me, it begs this question: If the essence of what I loved about The Dig wasn't the puzzles, why have them? Why not have only the essence of what I loved?
Thus, my conclusion is that it's well worth my time to answer this fundamental question of my experience with games by doing. I will create The Dig minus its puzzles, or more specific to the game I have in mind: "Myst minus the puzzles."
EDIT: This sounds a little misleading. I sort of got "microwaved" with a vision – a specific story idea – almost a year ago at a game jam. Since then, I've come up with a game idea for it, and after explaining the idea to Ted Martens, he told me what I was describing was basically Myst but without the puzzles. I realized the connection to my frustrations with The Dig after the fact.
As a final note, one of my goals as a developer is to make games (and notgames) for a variety of people, including those that are intimidated by or apathetic about games. I found this information graphic to be great motivation toward my goal, pulled from the notgames manifesto: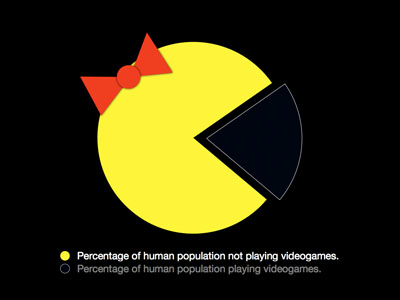 Make love, notgames.