I'm not much for writing something as formal and (over?)confident as a manifesto yet, but that doesn't mean I don't believe in them. Tale of Tales just released their second, a manifesto for notgames entitled Over Games, which was delivered at the Art History of Games conference at SCAD.
For the past year, I've been working on my own interactive projects that don't involve game mechanics, so it was very relieving to find out there are others out there wanting to do things that are like games, but not quite games. And when ToT invited developers to join them, I saw an opportunity to be part of a like-minded community.
If the essence of what I loved about The Dig wasn't the puzzles, why have them? Why not have only the essence of what I loved?
I'm not 100% convinced that videogames proper are holding back the full potential for expression, but I have the same gut feeling as Tale of Tales that in many cases they are.
I suppose this comes from evidence that some of my favorite "games" lately have been things that actually have very minimal game elements to them. It took some dissection of Small Worlds, Today I Die, The Majesty of Colors, and others on the notgames forum in order to come to an official conclusion on that. But if I follow the trend forward, it could be possible that by having no elements at all, the experience would be even more expressive as a creator and enjoyable as a player.
An even larger amount of evidence comes when I stop to consider the unique elements of art forms (or media if you prefer), and how videogames don't really offer anything truly unique.  This point is part of a very long-winded essay I have yet to publish, but the short story is that the "games" part of videogames isn't unique to videogames, and the "video" part of videogames isn't unique to videogames.
The "video" part I'm referring to – what I like to call a virtual, fictional interactive system – is what I love most about videogames. Basically it would be fictional media that fully utilizes the computer, including its input, computation, and output. Games would be a fine addition, but from my experience playing and creating them, they often create various forms of dissonance, especially when it comes to the more artistic/story-driven ones. A game system integrated with an artistic interactive experience usually feels duct-taped on top to me.
For example, the fact that I never finished The Dig because the puzzles were hard and I got tired of them really frustrates me. The puzzles are not why I loved The Dig, although they were interesting in their own right for a little while.  To me, it begs this question: If the essence of what I loved about The Dig wasn't the puzzles, why have them? Why not have only the essence of what I loved?
Thus, my conclusion is that it's well worth my time to answer this fundamental question of my experience with games by doing. I will create The Dig minus its puzzles, or more specific to the game I have in mind: "Myst minus the puzzles."
EDIT: This sounds a little misleading. I sort of got "microwaved" with a vision – a specific story idea – almost a year ago at a game jam. Since then, I've come up with a game idea for it, and after explaining the idea to Ted Martens, he told me what I was describing was basically Myst but without the puzzles. I realized the connection to my frustrations with The Dig after the fact.
As a final note, one of my goals as a developer is to make games (and notgames) for a variety of people, including those that are intimidated by or apathetic about games. I found this information graphic to be great motivation toward my goal, pulled from the notgames manifesto: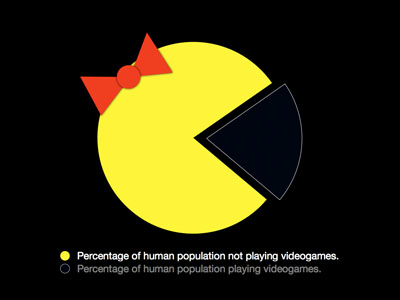 Make love, notgames.
Browse Timeline
Comments ( 8 )
Add a Comment